Company Details Restricted To Members
Job description
Registered Nurses
Part Time 60.8 hrs per fortnight
Rehabilitation Unit
Hunter Valley Private Hospital is seeking Part Time Registered Nurses with excellent interpersonal skills and a passion for delivering high quality patient care to join our established nursing team.
Hunter Valley Private Hospital is located on the fringe of Newcastle, close to beaches and the Hunter Valley and is close to the Pacific Motorway, vineyards and university. The hospital is an 83 bed facility which offers a variety of surgical, medical and rehabilitation services.
Employment at Hunter Valley Private allows you to embrace a quality lifestyle. As the longest established private hospital in the region, HVPH enjoys seeing exceptionally high patient satisfaction scores and prides itself on being a referrer of choice due to the exceptional care patients receive.
HVPH is committed to the community it resides in, with long term sponsorship relationships with local sporting teams.
Enjoy an easy journey to work with free parking or easily accessible public transport in a relatively quiet location.
Hunter Valley Private cultivates an inclusive team culture, prioritising both patient and staff safety in the provision of excellent care, having received perfect ratings in its last 2 ACHS accreditation surveys.
We provide flexibility in rostering and strive to help staff maintain a positive work life balance. Workplace safety is extremely important at HVPH, with all staff engaged in safety and wellbeing programs across the site, including Fitness Passport.
Hunter Valley Private offers great opportunities for ongoing professional development, including an educational relationship with University of Tasmania, leadership courses and clinical based study days.
Come and join our exceptional team.
As a Registered Nurse your responsibilities will include:
Provide evidenced based nursing care
Liaise with the multi-disciplinary team
Ensure patient and staff safety
Supervise, direct and guide nursing team members; Enrolled Nurses (ENs) and Assistants in Nursing (AINs) to deliver patient care
Deliver education and support to individuals/patients for the management of their health recovery, rehabilitation or end of life needs
Essential Criteria:
Current Registration with AHPRA / Studied Bachelor of Nursing
1-2 years experience
Commitment to Quality Patient Care
Compliance with ACQSHC National standards
Sound clinical decision making and problem solving skills
Excellent communication and customer service skills
Works well independently and within a team
Basic computer skills
If you are successful in this role, you will be paid according to the Healthscope- NSWNMA/ANMF – NSW Nurses' & Midwives' Enterprise Agreement – 2020-2024 "Industrial Instrument from $34.59 to $48.58 per hour.
Applications close: 4 Jun 2023
For further enquiries: Megan Jeffriess – Rehabilitation Nurse Unit Manager, 02 4944 3745 or Email
To Apply: Please click on the 'Apply' button to be taken to our online application form. Please include a cover letter, your CV, and the contact details of 2 professional referees.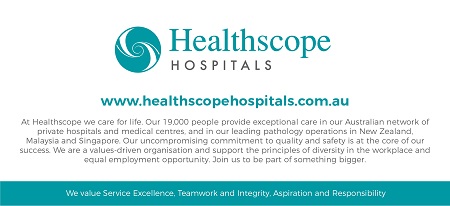 Register Your Interest In A New Life In Australia
If this role isn't quite what you are looking for but a Sponsored job in Australia is still of interest. Click here to upload your resume and register your interest with our Australian Recruitment Partners